How many times is it allowed to watch the highlights of Pakistan's victory against England before it becomes haram ya'ni? #WhatAFitnah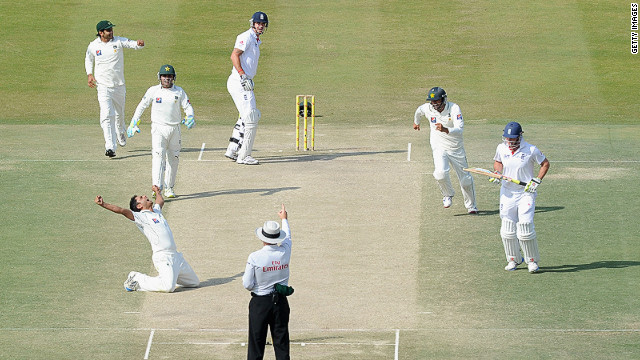 Anyway, whilst you mufti-walahs think of an answer, I now have my completed key moments/points of this 2nd Test:
- Oxenford really does look like the real deal as an Umpire. Absolutely superb.
-
Monty Panesar's ball to Younis Khan
looks better every time you see it again. Ball of the Match.
- Junaid Khan, do us a favour son. I get it, I really do. You don't get your line and length right on your debut. Fair enough, it's the nerves innit. You don't get any wickets. Teekeh. It's only your first game. But to take up the position of another bowler, field like a 3-year old, drop a catch that Boycott's mum, dad and grandparents could have taken – at the same time – and then to get ducks in both innings but worse put yourself first whilst going for glory instead of fighting for the team like the rest of the boys? Jog on son.
- Azhar Ali's cover drive still the best shot of the game. I gave my detailed description of the shot on my earlier Facebook post. And he's still holding the pose down there I heard. =)
- The jury was still out on Mohsin Khan continuing as coach in my opinion but after seeing him thank "the Almighty Allah" in his victory speech and considering that I'm still from that old generation of desi-lawg whose heart will melt and will beam smiling whenever "the Almighty Allah" is thanked, well, I think he gets to stay just by virtue of that. I'm pathetically easily won over like that, innit?
- The funniest/weirdest moment of the match has got to have been the shot of Mushtaq Ahmed trying his best not to smile whilst seeing England at 72-9 sitting next to a depressed Andrew Flower. We love you Mushy! We know you're our spy Mushy! Keep poisoning Trott's food Mushy! Well done Mushy! =)
- And thus the most irresistible (and pathetic but hey) joke of the match was reflecting on Trott having the trots, and respecting the fact that despite England's loss, he was in the real runs in the 1st innings and the other kind of runs in the 2nd innings. I'll get my coat.
- The most annoying moment of the game was whenever Adnan Akmal opened his mouth. Allahu Akbar. If this is going to continue throughout the next game, I'll have to have the whole thing on mute. Or if I get really desperate, I'll start making moves to get his older brother Kamran back behind the stumps instead. Actually, on second thoughts…
- The (closely) second most annoying moment of the game was whenever Aamir Sohail was brought on to commentate. Look, I know the Gorai are desperate to find a Pak who can speak English and who has held a cricket bat before (and when desperation takes you to Muhammad Akram, you know things are desperate) but please don't torture us anymore than we already are. We've had to endure Wasim Akram in the past, get punished by listening to Waqar now and have been abused for far too long by Ramiz Raja's dulcet tones. SKY SPORTS: Please, please, please avoid all Pak commentators at all costs and just jet in Charlie Nicholas. Ay na'm. =)
- Finally, I previously thought the best moment of the game was Stuart Board being bowled (goodness me that was soul-enriching!) but all-in-all it has to be the moment Umar Gul held on to a catch (shocking one billion people across the world at the fact that we can actually catch a ball) leading to those insane celebrations and yes, and don't tell anyone about this, but yes, a tear to trickle down this old dog's rough and hairy cheek. Out of happiness. Or relief. Or the fact that a nation of 100 million people who live the most difficult miserable life every day in Pakistan under threat of violence, poverty and corruption had just a small reason and fleeting moment to smile, be happy and say: Alhamdulillah. =)

God I love cricket.